Online Safety
Dear Parents,
Since our return from midterm break there has been increased anxiety among some of our pupils regarding the Momo online challenge.
WHAT IS THE MOMO CHALLENGE?
The "Momo challenge" has recently started to appear on social media platforms as a form of cyber-chain letter. Chain letters provide a great deal of shock, or trigger anxiety, which prompts the reader to share the stories/ information or obey the tasks that the chain letters contain. Gardai have issued a warning regarding this "game".
Teachers in St Anne's have discussed this with the children and have reassured them that this challenge has not caused harm to anyone in Ireland. We have reiterated to the children how to stay safe online and we are urging you as parents to keep a close eye on your children's online activity.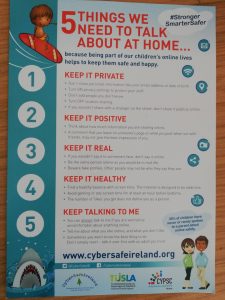 We include some useful links for you to access further information on this issue.
Online Safety Guide for Parents