St Anne's – An Active School
Here in St Anne's we are continuing to work at being an Active School. The children are encouraged to join team sports from Infants upwards and praise and encouragement is given at every opportunity. Active Homework is encouraged and programmes such as Bizzy Breaks and Buntús are favourites with all the teachers.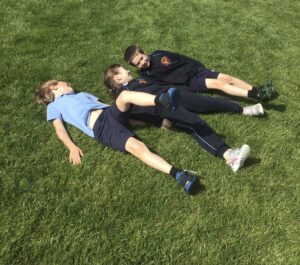 Every June we have our Active School Week, every class takes part in loads of activities, including Tae Kwon Do, Frisbee throwing, Soccer, GAA, Tennis, Athletics and Yoga. This week concludes with our annual Sports Day and our 6th class basketball team also play a game against the teachers. Unfortunately the teachers are the reigning champions, so this year we plan to train extra hard to beat them.
So remember, get plenty of exercise, move about, go outside and BE ACTIVE!!
In May 2018 and 2019 we also held a Marathon Relay event to raise money towards promoting sport in our school. This was a fantastic event in which every student, teacher and even some parents and helpers including our school chaplain, ran to complete the marathon distance. We received great support and sponsorship from Credit Union Plus Navan, 121 Fitness and Vodafone Ireland Navan.