Welcome to the Speech and Language Class in St Anne's, where children with DLD from all over Meath come for additional support. We are one of 3 Speech and Language classes serving the whole county of Meath.
There are seven children in our class, a mixture of Junior Infants to Third Class.
Our teacher this year is Mrs Fitzgerald. Our Speech Therapist is Cáit, who we work with individually twice a week. We are also very lucky to have the support of our SNAs, Helen and Collette.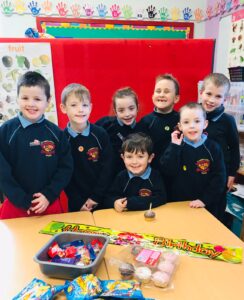 As you can see we love celebrating birthdays in our class.
Admission to our Speech and Language class is through the Meath Language Class Admissions Committee. If you have concerns about your child's speech, contact your local Speech and Language therapist or Public Health Nurse. Further information about DLD can be found here. NCSE have developed an excellent range of resources with Speech Therapists and Occupational Therapists for parents to complete at home. They can be accessed here.