Role and purpose of the Student Council in St. Anne's National School Navan.
St. Anne's believe that students have a very important role to play in the running of our school.
A Student Council
helps improve school life for everybody.
acts as the voice of the students.
acts as a channel of communication within the school organisation between pupils, school and home.
encourages pupils to organise events and to represent the school in a positive way during these events.
The Election Process
Every year, students from the Fifth and/or Sixth classes are invited to nominate themselves for a place on the Students Council. Before the election candidates are asked to present their ideas in a speech to their peers. The classes elected their council representatives. Our newly elected Student's Council was set up in September. The elected Students Council is required to attend regular meetings, to participate in any projects. Council members wear a special badge to ensure that they are readily identifiable as Student Council members. This year's Student Council are Antonia, Mohammed, Amy, Zach, Mohamed, Katie, Caleb,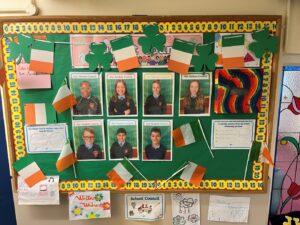 What makes a good Student Councillor?
A good councillor should be:
A good listener
Trustworthy
Happy
Helpful
Committed
Honest
Reliable
Able to work in a team
Want to make changes
Have good ideas
Student Council Meetings
We have meetings once a fortnight with the Mrs Gibbons to work on our goals. Prior to the meetings, the Student Council representatives collect ideas and suggestions from all classes through our suggestion boxes for the agenda. Mrs Gibbons may put forward topics to discuss or upcoming events in the school which the Student Council may need to be involved in. The Chairperson helps run a council meeting. From this meeting Student Council will be given tasks to carry out. Members are also asked to report back to the student body on the outcome of our meetings. The Student Council notice board will have regular updates. We invite Ms O'Bric to attend some of our meetings to keep her updated on our goals.
Some of the ways we have improved school life include:
Goalposts in the basketball court
Wellbeing Week rolled out across the school
Water fountain in the boys bathroom.
Buddy Benches in the yard.
Fundraising for Daffodil Day.
Surveying the pupils in St. Anne's to improve yard rules.
Helping with St Anne's open evenings, special occasion, and visitors.
Book donations
Implementing new initiatives.
Through our Student Council St Anne's National School hopes to give our pupils a more active role in the organisation of our school and to ensure they are listened to when making school policies and rules. Discussions in the classroom and Student Council meetings help to develop social and learning skills including speaking, listening, problem solving, project work and decision making process. We are very proud of our Student Council in St. Anne's.
Student Council Update
The Student Council have been extremely busy.
Last Friday 25th March, in honour of Daffodil Day the Student Council hosted a Skipathon. Every class had the opportunity to skip and participate in the event. We did some challenges, relay races and practiced our skipping skills. As a school community we raised €667! All funds raised will go to the Irish Cancer Society and help the lives of those living with cancer. It was a momentous occasion and enjoyed by all. Special thanks to Mrs. Gibbons, Mr. Cullen and Mrs Lynch for helping us organize it.
Here are some of the activities we have done to date:
On Friday 15th October, the Student Council help a Developmental Language Delay Awareness Day. Developmental Language Disorder (DLD) is a condition which makes it hard to talk and understand. Two children in the average classroom have DLD. DLD affects people from around the world regardless of age, gender or ethnicity. DLD can make it harder for a person to talk or understand We wore purple and yellow clothes and organized oral languages games.
We did lots of activities for Wellness Wednesday, for example encouraging everyone to do a random act of kindness, look at our own wellbeing and activities we can do to help it, art competitions, movement breaks, fruit breaks, maths quiz, promoting mindfulness etc.
We organized a hot chocolate for pupils in the senior classes.
For Valentine's Day, we distributed Love Hearts and asked each pupil to write a nice message to someone in their class.
We have introduced a school mascot to the school. Her name is Annie. She has visited all the classes and we hope she will bring us good luck when we are competing against other schools. Annie will support anyone who needs a boost and also be our chief cheerleader. Welcome Annie to St. Anne's.
In December, each pupil made a card or wrote a letter and we sent them to all nursing homes in the area. The residents really appreciated this gesture and send us back some lovely cards too.
We also organized a shoe box appeal for Team Hope. We sent 122 shoe boxes to children affected by poverty. Often these gifts are the only gift that a child will receive at Christmas. A great achievement.
We help to distribute lunches in the morning and give any assistance we can to the teachers and Ms. O'Bric.
At the moment, we are organizing Graduation Hoodies for 6th class pupils. These are a lovely keepsake and all their classmates names are printed on the back.
We continue to update our noticeboard. It has our Suggestion Box where anyone can drop in their ideas for us to discuss at our Student Council meetings. Keep those idea's coming as we are the voice of the students in St. Annes.