COVID-19
Here at St Anne's we have been busy preparing to welcome all the children back to us safely.
Updates will be posted here as we have them.
Useful isolation guide from the HSE with the steps to follow. Please always follow direction from your GP and HSE to keep everyone in the school community safe.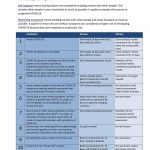 Please read and follow the following advice from the HSE if your child is unwell. This is critical to ensure St Anne's can stay open and as safe as possible. HSE back-to-school-advice-for-parents
Find here Acting Chief Medical Officer, Dr Ronan Glynn's Open Letter to parents, teachers and staff Open-Letter-ACMO-to-Parents-English-1
Phased Entry and Exit times and routes for each class can be found here phased Entry and Exit Schedule
Here you will find our Return to School Plan St. Anne's Loreto P.S. Return to School Plan 2020 updated This will be updated in line with advice and procedures
Here you will find our Covid-19 Policy Statement. Covid19 Policy Statement St. Anne's
We are carefully following all official advice so that the children and staff can have confidence that they are as safe as possible while at school.