We have been very busy in all the classes since we returned to school starting in February with our Speech & Language class, on March 1st for our Juniors to 2nd class and on March 15th for our senior pupils. The Junior classes were very lucky to get a visit from Áine Murray, author of The Pain in the Chest.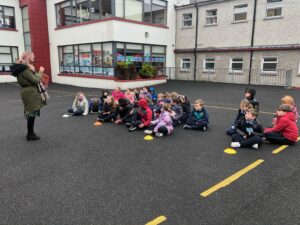 2nd class have also been very busy gardening with Ms Moriarty. We cannot wait to watch these grow.
We have all settled back very well into our school routine and continued our great adherence to our COVID prevention procedures. Thank you to all our parents for your continued support with staggered drop-off and collection and for not congregating at these times.